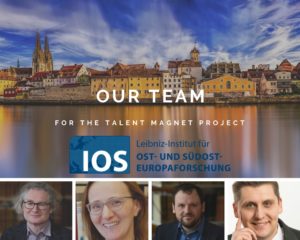 Hallo, Servus und Grüß Gott!
Greetings from the historical city of Regensburg! Regensburg is located in the middle of the Bavarian region in Germany. Bavaria is famous for the Oktoberfest, the best beer in the world, and traditional clothes like lederhosen. The city itself is rich of culture, industry, and Bavarian lifestyle. Our team is proud to represent the Leibniz Institute for East and Southeast European Studies (IOS).
Prof. Dr. Ulf Brunnbauer is our team leader, Barbara Stupka is the financial manager, Franz Kurz is responsible for public relations, and Sebastian Paul contributes as a researcher to the project. Our institution functions as a knowledge provider. The IOS is one of the largest and longest-established institutions of its kind in Germany. It is organized as a non-university research institution. IOS brings historical, economic and other social science expertise to bear on interdisciplinary research fields that are oriented towards transnational and comparative perspectives. The focus lies especially on Southeast Europe and the territory of the former
Soviet Union.
Our goal is to conduct high-quality research, investigate migration movements in the Danube region, and, most importantly, improve the situation of small and medium sized cities that are affected by brain drain (the outflow of (young) talents).
We are looking forward to this project!